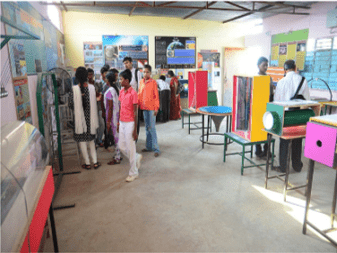 We aim to Build a Knowledge Society in rural areas by developing curiosity and a habit of problem-solving among children. The Creative interactive exhibition helps fire one's imagination with educational products, which leads them to learn something more than just Science.
One science centre can be developed for a cluster of schools or for one block with the aim to establish this innovative concept of science centres in the school that is specially focused on tribal areas / backward areas in India. This science centre is designed to create an environment where students and teachers can come together to play, think, learn, watch, discuss and do various activities. Every exhibit, which is to be displayed in the centre, aims to trigger their curious brains. This type of science centre may be developed 1 centre per block (taluka), so all the schools from the same block can take the full advantage of the establishments. Or one science centre can be developed for a cluster of schools in rural as well as urban areas.
Need for Discovery Science Centres
How do you know that a child is learning? It's easy ……when they start asking questions, lots of questions. And how do you recognize people who are poor and impoverished? That is simple …… When they do not have questions and feel that they know there is no point in asking any. When people do not have questions and when children do not ask any… Then we must cultivate, encourage and accelerate the culture of asking questions…
About Discovery Science Centres
This center is designed considering ready space availability of a minimum of 1200-1500 sq.ft. Or minimum 3 classrooms or that of a big hall. The budget required for such a small science center will be around 12 to 17 lakh (inr) for each such center (excluding the construction cost ) To date, The SEDT has established over 131 such Science Centres.
1. 124 Science Centres – for the Manav Vikas Mission,Tribal Department,Social Welfare Department and Education Department, Govt .of Maharashtra.
2. For HCL Foundation Centres at Nagpur,Lucknow Noida, Chennai and Madurai.
3. 1 Science Centre – For Rotary Club in Pune.
CSR Solution
Creating partnerships and collaborations with various stakeholders for the sustainability of the projects. Developing a long-term sustainable and effective CSR initiative for such innovative education methods. Collaborating with Corporates and acting as per the CSR plan, We at SEDT can develop such an innovative impact in the education centres.
Aim of Discovery Science Centres
To create a place where children will be encouraged to ask questions related to Science, Nature, Mathematics, and the Environment.
Our Approach
Identify and network with like-minded international educationists and partner with them to understand global practices. Establish a Curiosity Centre with adequate facilities and make it accessible to the children. Network with schools in the block, district, and adjoining districts in the region to reach maximum children and extend its benefits.
Sustainability
The teacher's role as a Facilitator is important to deal with children when they visit these centers. Schools should appoint 1 or 2 people, teachers from their staff that may be given the responsibility to take care of the center and the children who visit from the nearby schools. Need to properly care for and maintain the exhibits that are manufactured and treat them with enough care while still allowing them to be used by the children. There shouldn't be any more than 50 children in the center at a time. The school should maintain this accommodation so every child can see all exhibits in detail. Proper planning of visits should be done by the owner of the science center's school. This school should coordinate with all the nearby schools and plan proper visits.
Experience In Developing Science Center
1. We have established the first-ever Science Centre in Rural Maharashtra – Discovery Science Centre, Kerwadi, which has been functioning successfully for the last 17 years.
2. It is the 1St Science Centre in Marathwada, And
3. It is 28000 sq. ft. Infrastructure with different sections
Considering the concept of a Science Centre to be established at schools, we have drawn out a Specific strategy. And there are a few important points which we have already taken care of. Teachers Training (Facilitator's Training) is one of the key elements for this project and will be provided by us. We have a sizable experience of 15 years in running Science Centres for children in rural areas. SEDT is a non-profit making organization – We have always tried to maintain the Maximum Quality Standard in the development of every Science Centre without any Compromise. We have training facilities and association with world-renowned trainers.